S

ervices

At Associated Ideas we specialise in :

We know and understand the trade media, the advertising representatives and the editors.

With a long history working in the advertising and promotion industry, Associated Ideas knows this business.

Our philosophy is:
"View the client's business as if it was our own, and give that business a high degree of service and commitment."

We keep clients because we don't charge outrageous prices, and believe a service business demands 'service'.
Featured service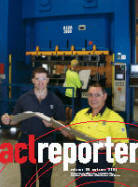 NEWSLETTERS ARE OUR SPECIALITY
Newsletters are an extremely cost-effective form of communication. They're excellent for - employees, customers/clients, shareholders.

We do everything for you. We resource the stories. Interview the customer. Take the photographs. Prepare the finished art. Get approval for stories. Print the publication. Dispatch the finished product.
read more
Brochures

The brochure is often the most important promotional item in the armory of any company. It should reflect what the company does and who works for that company.
It should speak with a voice that is in harmony with management and staff. We work with clients to make sure their brochure does that! With a little thought, a dash of creativity, and knowing the reproduction industry, brochures needn't cost a fortune.
see some examples here
Industrial Advertising
We know Australian trade media.
You'll be surprised how economical it is to prepare a trade advertisement that sells.
Give us your current advertisement and see how we can improve it - Free!
Editorial

Do you have a publicity program?
We work with clients to make press editorial in trade magazines an integral part of a clients overall marketing and promotional mix.

Let us mix up a little promotional magic for your company!